Lithium Battery Shipping Regulations: Protect Your Shipment and Your Business
Protect Your Shipment and Your Business
More and more products are fueled by lithium batteries. As their use increases, so does the frequency of safety incidents during shipment. In fact, the Federal Aviation Administration reported a significant jump in lithium battery incidents aboard planes and in airports—from just 16 incidents in 2015 up to 46 in 2017.1
To address these growing concerns, the United Nations routinely updates its Model Regulations on the Transport of Dangerous Goods. Is your organization compliant with these evolving lithium battery shipping regulations? If not, you are at risk for penalties and fines that could amount to thousands of dollars per violation.
Lithium Battery Hazards
Battery malfunctions can cause overheating, or thermal runaways. This may result in fires, explosions or gas leaks. Additionally, lithium batteries can go into thermal runaway when they come in contact with an external heat source, such as fire. Due to these safety concerns, lithium batteries are considered hazardous materials or dangerous goods and shippers must adhere to strict regulatory requirements.
Mode of Shipment Transportation
Shipping regulations for lithium batteries are first defined by the mode of transport—air, ground or ocean.
International air transport imposes the most stringent rules. Standalone lithium batteries are restricted to cargo aircraft only. This rule protects heavily-populated passenger flights in case of fire or explosion. Additionally, regulations prohibit damaged, defective or recalled batteries from air transport altogether.
Even on cargo flights, the rules are strict. For instance, standalone lithium ion batteries can only ship by air transport if the battery charge is 30 percent or less of its capacity. Many manufacturers and sellers don't have the means to test every battery's charge level or they prefer to ship at 100 percent state of charge, so they typically rely on ground and ocean transport.
Shipping Labels & Documentation
Regardless of transportation method, there are still many regulations that shippers must address:
Packaging requirements vary depending on battery size and quantity.
The number of packages that can ship to the same recipient at once is limited.
Documentation rules vary depending on battery watt or gram ratings.
Fully-Excepted Shipments
Lithium ion (rechargeable) batteries rated at 100-watt hours or less, and lithium metal batteries with two (2) grams or less of lithium content, are fully-excepted items. Rating parameters increase slightly if the mode of transport is limited to highway or rail only. Additional exceptions apply to individual cells.
Fully-excepted items require only a lithium battery mark that displays the UN number(s), as well as a telephone number which is commonly a 24/7 emergency-response number.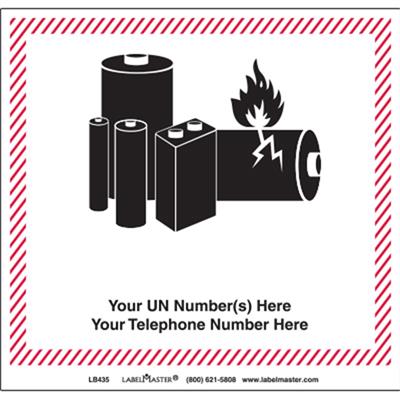 Fully-Regulated Shipments
But regulations tighten for lithium batteries that exceed the exception limits. At that point, the package becomes a fully-regulated shipment and requires additional documentation, including:
Class 9 Hazard label
Shipping papers
24/7 emergency contact number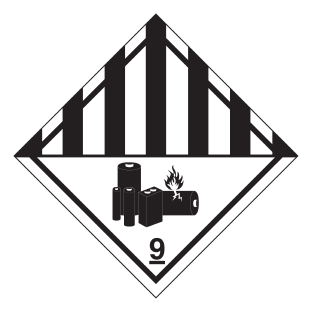 Emergency-Response Support
Registering with an emergency-response organization like CHEMTREC can help smooth out the documentation obstacles of shipping lithium batteries. But its full value lies in the support delivered during a true shipping emergency.
24-Hour Emergency Number
CHEMTREC customers can post our 24-hour emergency phone number on all shipment documentation to comply with regulations. Customers also have the support of the CHEMTREC call center to field any emergency calls. With detailed customer information and safety data sheets at their fingertips, the CHEMTREC team has the expert knowledge to properly address any safety incident due to lithium battery shipping.
Shipping Labels
CHEMTREC partners exclusively with LabelMaster to supply the appropriate handling marks and labels for shipments containing lithium batteries. LabelMaster guarantees CHEMTREC customers that the labels meet all lithium battery requirements including size, markings and color.
Hazmat Training
Training is another aspect of shipping regulation that sellers must contend with. When shipping fully-regulated batteries, sellers need full Hazmat training focused on the specific mode of transportation. The training requirements are reduced for sellers who only ship fully-excepted materials.
As the use of lithium batteries continues to grow, shipping regulations will evolve. Working alongside industry partners like CHEMTREC and LabelMaster is an effective way to stay up to date with the complex regulations surrounding hazardous materials.
Learn More About Lithium Battery Shipping
---
1 "Lithium Batteries and Lithium Battery-Powered Devices." Federal Aviation Administration, FAA Office of Security and Hazardous Materials Safety, April 2019, https://www.faa.gov/hazmat/resources/lithium_batteries/media/battery_incident_chart.pdf