The Center for the Polyurethanes Industry Video Series Provides the Latest on Safe Handling of MDI and TDI
By: Ally Peck, Manager, Environment Health and Safety, Plastics Division, American Chemistry Council
The Center for the Polyurethanes Industry

Video Series Provides the Latest on Safe Handling of MDI and TDI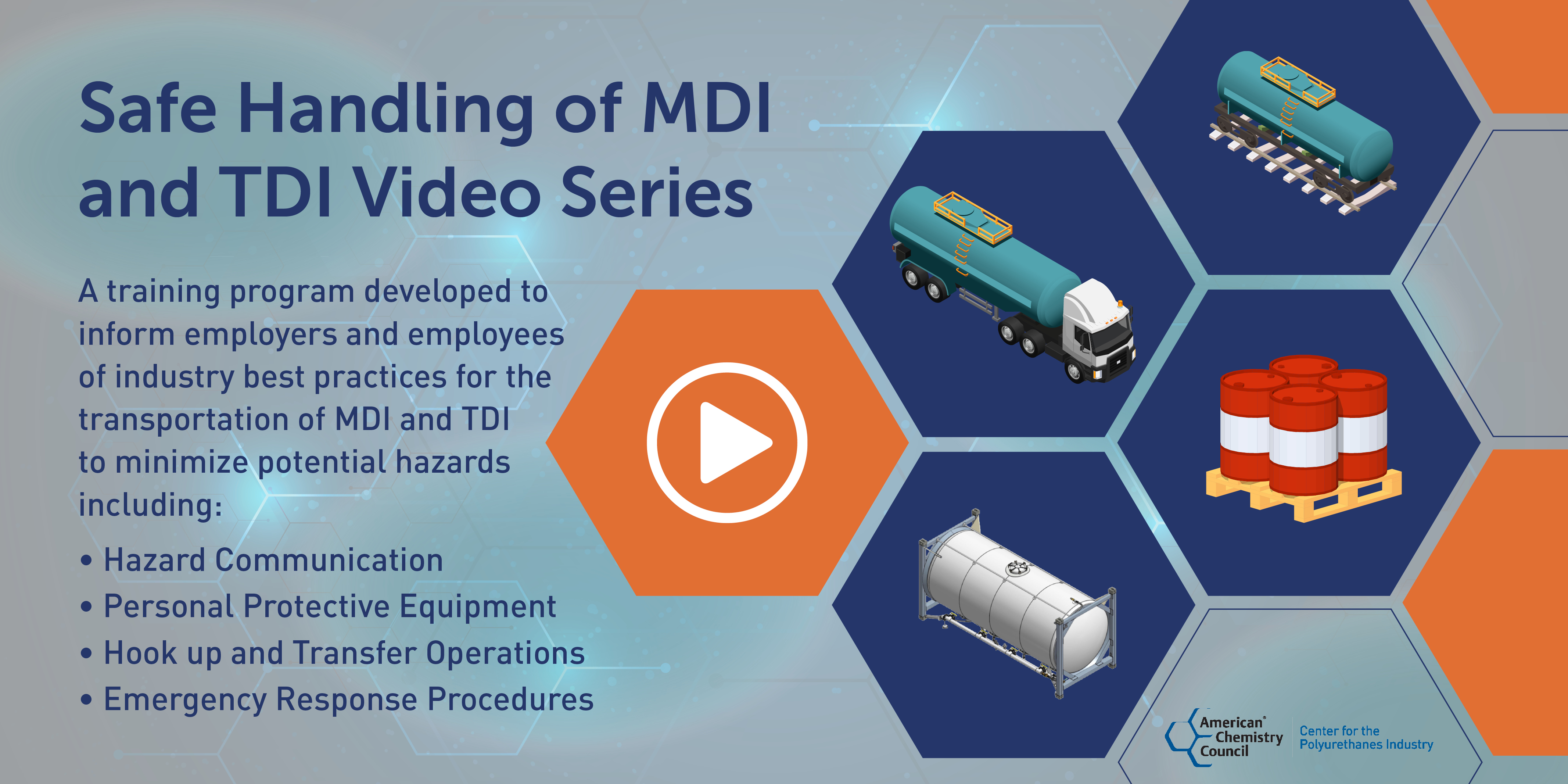 Methylene Diphenyl Diisocycanate (MDI) and Toluene Diisocyanate (TDI) are key building blocks used in the polyurethanes industry to produce a wide variety of materials like insulation, roofing, and coatings, as well as comfort materials like mattresses, furniture, appliances, sports equipment, and transportation seating.
Recently, the American Chemistry Council's Center for the Polyurethanes Industry (CPI) released an updated video series focused on the safe handling of MDI and TDI. This program helps both employers and employees learn about the potential hazards associated with transporting these materials and best practices to minimize potential risks.
"Shipments of these materials are often made via highway and rail," said Lee Salamone, Senior Director, CPI. "This educational video series reinforces the industry's commitment to fostering product health and safety."
The original Safe Handling of MDI and TDI video series has become a valuable tool in training thousands of transportation workers and plant personnel across the country each year. The revised series features actual member company employees and uses common, clear language to provide updated regulatory information. The videos also offer information on personal protective equipment, unloading procedures, emergency response procedures, and proper disposal of waste.
More information on these educational tools can be found here.  To view CPI's robust library of product stewardship materials — including guidance documents, training videos, and regulatory compliance tools — visit the CPI Resource Library. For the latest updates in the polyurethanes industry, visit us on LinkedIn.